After half a century, we know experience building by heart
Our expertise stems from a lifetime of craftsmanship
Our owner, Erkki Tommila, began his career as a stand builder at just 16 years old. By 1965, he was funding his studies assembling stands for the Finnish Ahlstrom Corporation – some of which were designed by the famous Tapio Wirkkala. In 1977, after graduating with a Master of Building and further language studies in Sweden, England, Spain and Switzerland, he and his wife founded Tomwood AG, a commerical agency for Finnish wood products.
Diversifying to serve a range of clients
By 1980, Tomwood was also operating as a stand contractor. The first major exhibition client was the Swiss Bankers Association, for whom the company created two large pavilions annually over a period of more than 10 years. From 1981, the Finnish Foreign Trade association regularly entrusted the company with numerous projects, largely in Europe – but also within Switzerland. Gradually, the list of important customers grew. Companies came from all industries, like Nokia, for example. Tomwood was responsible for a large part of their trade shows and events between 1987 and 1995.
In 1992, the exhibition department of Tomwood was incorporated into the newly founded Tomexpo AG. While Tomwood successfully established itself as a local lumber store, Tomexpo specialized in individual, large-scale and multi-storey stands, as well as smaller projects. Over time, Asian agencies became aware of our performance and since the late 1990's we've enjoyed fruitful business relationships with many companies from Japan and South Korea.
In 2002, the International Telecommunications Union (ITU) recognised our expertise and appointed Tomexpo as Management Consultants for the implementation of the Telecom Village at the ITU Telecom World 2003 in Geneva.
Over the years, Tomexpo's focus has always been the delivery of an all-inclusive, premium quality service. It's a service that goes beyond simply the delivery of a bespoke stand or showroom, but that also assists with all matters that may arise during an event project. Our customers thank us with decades of loyalty.
Today, Tomexpo offers unique brand experiences and handcrafted event spaces of all kinds. From exhibitions and retail experiences to special installations like virtual environments, our business is informed by a rich legacy of creativity that continues to develop year on year. Our international team consists of designers, architects, event marketing experts, and carpenters. Together, we create functional, responsible and forward-thinking solutions for the success of any client, anywhere in the world.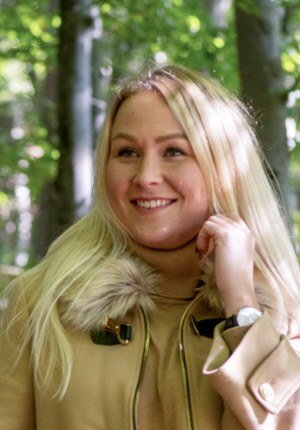 Would you like to hear more? Let's talk 😄
Jonna Palmu
Commercial and Marketing Director
MSc International Management (2020)
BBA Marketing & Communications (2009)
Member of the Executive Board