New era of exhibitions: Case Airbus
Story by Airbus and Jonna Palmu
Last week we finally got to implement a project overseas, for the first time during covid times. And boom. Honoured to say we did it with style the occasion deserves. As the world is slowly opening up to face-to-face business again, let us present you with something never seen before. A project that serves as a catalyst for Tomexpo's new business approach in crafting premium brand experiences that emphasise sustainability together with design thinking.
Client
Igor Vinogradoff, Airbus / Secure Land Communications
Design
Tomexpo: Tobias Tommila
Project management
Tomexpo: Marc Muellhaupt & Erkki Tommila
Since the beginning of the year, Tomexpo has been adapting a sustainability strategy to solve some of the biggest challenges in its industry. In close cooperation with experts, e.g., Swiss Climate, and clients, we are pursuing to achieve a higher grade of durability and recyclability in our offering while reducing carbon emissions in operations. At Critical Communications World conference 2021 in Madrid, Airbus joined us on this important mission with a forward-looking stand of which everything you see will be recycled or reused in future exhibitions. In fact, next time, the visitors may experience the unique design piece at PMRExpo in Cologne, at the end of November this year.
To meet the ambitious goals we have together set with Airbus for sustainability when designing and building exhibition stands for the company, this booth was the first one designed and built for maximum level of recyclability. Hereby, life cycle thinking was the very basis for decision-making at each point of the project and what we, at Tomexpo, see as one of the key factors in crafting influential brand experiences. Moments that are made to last.
In the structure, that highlighted an idea of the secured network of Airbus, 2385 pieces of wood was cut in to 76 different lengths. Customised service desk and top tables were constructed of those leftovers. The fragile marked wooden boxes from trash added a witty finishing touch to the counter.
In production it would mean exploiting materials such as waste wood, using recycled elements, going for cradle-to-cradle certified and non-toxic products, to mention a few. Most importantly, maximum amount of the Airbus stand elements will be reused in future projects.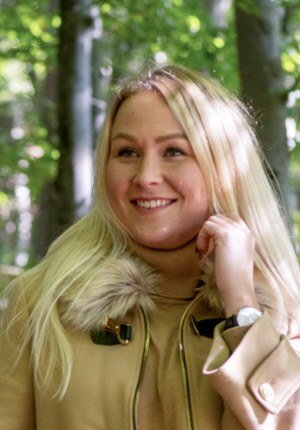 Would you like to hear more? Let's talk 😄
Jonna Palmu
Commercial and Marketing Director
MSc International Management (2020)
BBA Marketing & Communications (2009)
Member of the Executive Board